Ed Bliss Dies
11/26 ...AP....
WASHINGTON - Ed Bliss, a former CBS writer and editor who worked with such luminaries as Edward R. Murrow and Walter Cronkite and later founded the broadcast journalism program at American University, died Monday. He was 90.

Bliss died of a respiratory disorder at a hospital in Alexandria, Virginia, friends said. During his 25 years at CBS radio and television, Bliss wrote and edited the news summary for Murrow's 15-minute broadcasts, worked with Fred Friendly on "CBS Reports" and served as CBS News President Dick Salant's executive assistant. In 1963, he became Cronkite's news editor when CBS Evening News became the first 30-minute newscast. He was the person sitting behind Cronkite during his announcement of the assassination of President John F. Kennedy. "Ed is considered to be the finest broadcast writer in the history of electronic journalism," said Michael Freedman, vice president and journalism professor at George Washington University in Washington. "When you talk about somebody writing a book on a subject, Ed literally did." Bliss wrote "Writing News for Broadcast," a widely used journalism textbook first published in 1971.
Born in China in 1912, Bliss was the son of missionaries. He started his journalism career in the 1930s in Ohio working for newspapers in Bucyrus and Columbus. He was hired as a writer for CBS Radio News in 1943. In 1968, Bliss started American University's School of Communication's broadcast journalism program. He retired in 1997 and the same year was named Professor of the Year by the Society of Professional Journalists. "The enthusiasm of the students was the most gratifying thing," he said in a 1993 interview. "And the friendships made through teaching, that's the ultimate medal any teacher could wear." After retirement, Bliss continued writing and in 1991 published "Now the News, The Story of Broadcast Journalism." His book about his wife's struggle with Alzheimer's disease (news - web sites), "For the Love of Lois," is scheduled to be published next year. He also wrote a book about his father, "Beyond the Stone Arches," which was published last year. Bliss is survived by his daughter, Anne Mascolino of Washington, D.C.



Ed was a very familiar sight around Broadcast House in the 50's and 60's. He was one of the true giants of this business, writing most of the material for Murrow's nightly 7:45 CBS radio broadcast.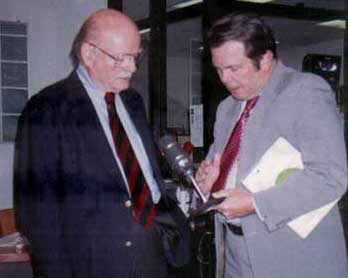 Chuck Langdon and I interviewed him about 6 years ago....for Fairfax Cable. (The public access channel)...and among the things that Ed said was......that some days he felt that he was letting Murrow down..........by just not being at his best. And he said, invariably, he would be listening to the broadcast as Murrow was delivering it.........and he'd think,.." my God, he's made that lousy script sound good....just by the way he's reading it.">


He also said that his career was mostly spent behind the scenes....UNTIL he started working the Cronkite Show on TV. Then he became nationally known as "that bald headed man who walks around on the Cronkite set.">